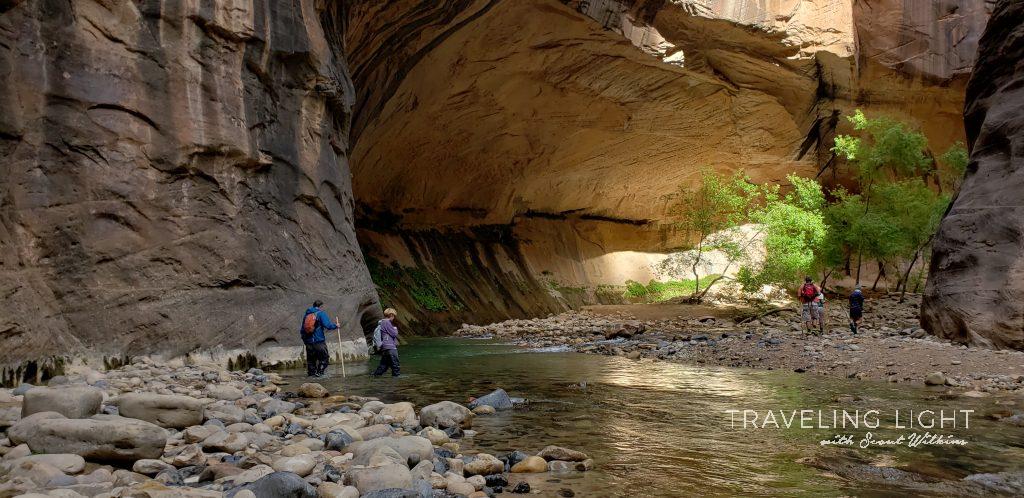 The Zion Narrows has been rated by Lonely Planet as one of the top ten hikes in the world – and for very good reason. It is an awe inspiring experience, to travel up this 2,000 foot deep canyon, crossing and recrossing the Virgin River, occasionally moving through wall-to-wall water.
Hiking the Narrows can be intimidating, for a very valid reason:
It's a slot canyon in flash flood country.
But because of that it is a great place to learn how to balance safety, fun and learning, so you can move comfortably into a bit more risk than you might be up for under other circumstances. There are solid reasons to feel comfortable going on the hike, and on other days there are solid reasons not to.
So our day will begin with an orientation to the canyon and its processes; a conversation about everything that has gone into the decision to do the trip. As you come to understand the system more completely, you can make better, more informed decisions.
The Narrows is a wonderful place to learn about navigating risk with wisdom.
It's deeply rewarding to help people understand what they are doing consciously enough to be able to map the process over to their lives at home, so that from this experience, you leave feeling far more empowered and excited about your new level of willingness to trust yourself to take on risks that you might previously have been avoiding.
Along the way we'll talk about the geologic forces that have gone into forming Zion Canyon, see and learn about many of the canyon's inhabitants (with luck we'll get to watch a water ouzel or "dipper", a small dark bird that will dip (sort of bounce) on a rock before diving in and actually flying through the water to catch small insects.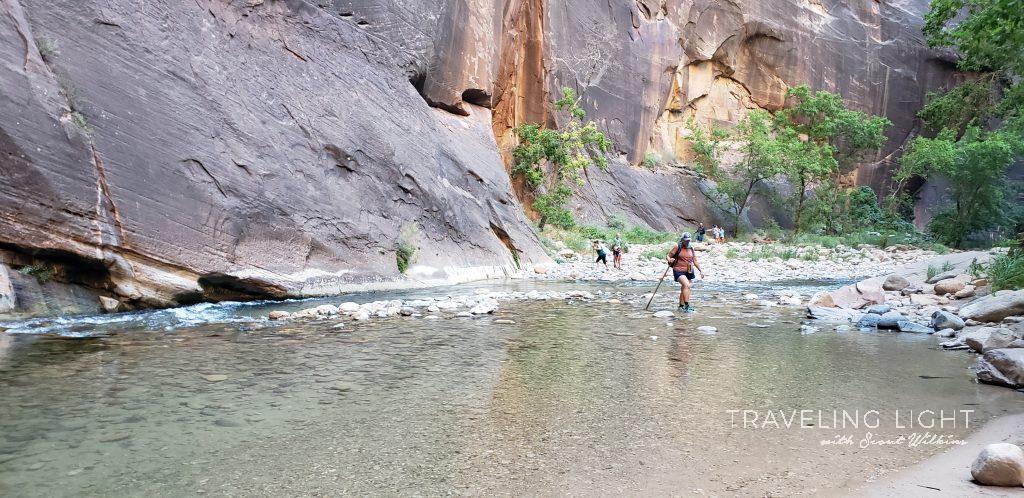 The details you will see: the colors, textures, shapes and light will keep you amazed and delighted. I'll be reminding you, as we move upriver in the morning, to turn around frequently and look at the reflected light on the canyon walls behind us. I might point out a hidden alcove hiding some gems of rounded rocks, or a rare view to the rim from the canyon floor.
And I will almost certainly introduce you to one of my favorite trees, which settled into the center of a vortex and thus is able to survive repeated flash floods by living right in the eye of the storm. There's so much to learn from the denizens of the canyon.
You may have heard about how popular Zion National Park has become. In fact, as of this writing, we are the number three most visited National Park in the US. The Narrows experience is impacted by this, of course, but that's another thing I like to use, to learn from.
I mean, where aren't we having to learn how to deal with lines, crowds and the danger of loving what we love to death?
As a guide making my living dealing with a lot of people, it's definitely been critical that I figure this out for myself. I have things I have learned to do, to keep myself happy and engaged no matter what the circumstances. And at the end of the day, these are the things I love to share the most: How I personally use my experience in this challenging place to become more optimistic, more engaged and more delighted with life all the time.
I've been guiding all my life, and have fought and worked hard for the knowledge, ability and willingness I've developed. And these days, I know the most useful and valuable thing I have to share:
How I stay happy and connected to this remarkable beauty, inside and out…How I stay open and generous, excited and curious in the face of challenges that can easily make a person cynical, frustrated and angry.
This is what I hope to send you home filled up with:
Optimism and joy, and a deep appreciation for this amazing life we have, and how well we are actually doing together here on this earth.